Adidas Makes First 3D Shoe Available for Purchase
Adidas today announced that it will be making its 3D technology shoes, 3D Runner, available to purchase for the first time with a limited edition release, initially in New York and later this week in London and Tokyo.
Adidas' aim with 3D Runner is to have customers come to a store, run on a treadmill while footprint measurements are taken, and print a shoe that matches their foot contours exactly and more closely aligns with a runner's movements.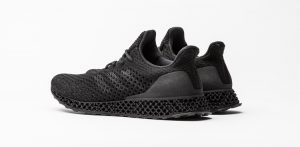 The shoe features an engineered 3D web structure with dense zones in high force areas and less dense zones in the low force areas, allowing for the optimum level of performance. The 3D Runner also features a 3D printed heel counter, which is integrated into the midsole and avoids the typical process of glueing or stitching. Benefits include greater elasticity, compliance and support.
 "This is just the beginning," says Mikal Peveto, senior director of Adidas' Future team. "Creating customized shoes based on an individual's footprint – including their running style, foot shape, performance needs and personal preferences – is a north star for the industry and Adidas is leading with cutting-edge innovations."